There are different kinds of credit cards available in the market. Some of them don't have any joining and annual maintenance fee, while others have both or either of them. As a customer should you ever consider taking a credit card with fee or settle for the one that is free? To get a better idea on this, it is important to know how banks and credit card companies make money from credit cards.
Credit card companies and banks deduct a small amount that a customer pays to a merchant at the time of completing the transaction, which is known as 'Interchange fee'. This fees varies from 2 percent to 5 percent depending upon the credit card company. Interchange fee is the primary source of income for credit card companies and issuing banks.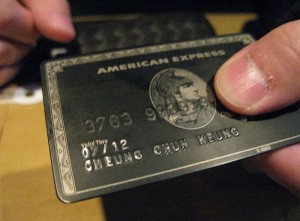 Many credit card companies and banks also levy joining and annual fee for the credit cards issued by them. But this fees is not the primary source of income for credit card issuers. The joining/annual fee charged to the customers is generally given back to the customers in form of shopping coupons, airline miles, joining gifts like watches, etc. The main purpose behind charging a fee from the customers is to get serious customers who use the cards frequently. Another reason is to maintain exclusivity for the premium cards (gold and platinum). This strategy is used more by card companies like American Express for its platinum and centurion cards (see above picture) whose annual fees go into thousands of dollars. Such premium credit cards are targeted at  high-net-worth individuals (HNWIs) and offer a host of benefits to customers like concierge services and access to airport lounges.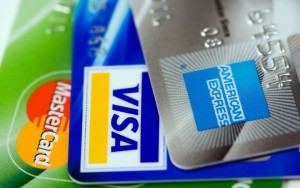 So, the important thing to consider while choosing between a free credit card and a credit card with fee is whether you need all the services that come with the latter. You should also be sure of recovering all the annual fee you pay to the credit card companies through the exclusive services provided for those card holders. If your income levels or spending through credit cards is low, you may not be able to avail all the benefits offered by a premium credit card. In such a case it is better to opt for a free card.